Valentine's Day comes every year on February 14th, and it's the perfect time to show your significant other how much you care. If you are looking for ways to spend the Day in the Wausau area, we have a variety of ways you can celebrate, no matter what your love language is.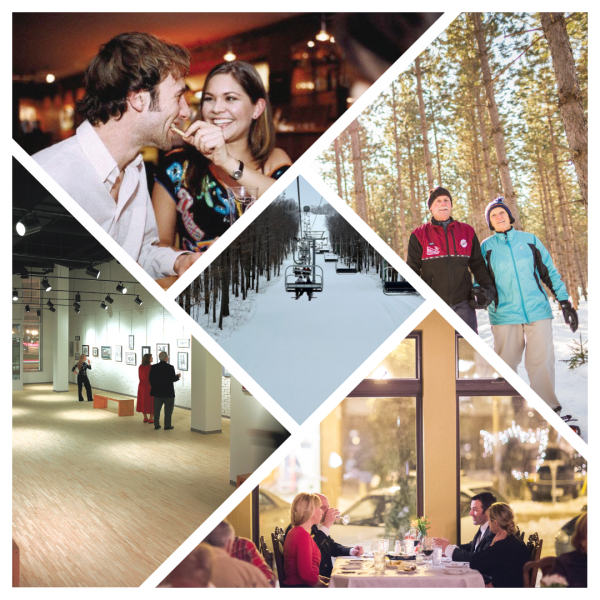 Words of Affirmation:
Snag a beautiful card from one of the many local gift shops and fill it with your message. The Local is an excellent place to find hand-crafted cards and other gifts to sweeten the thought. Evolutions in Design can create a stunning bouquet to accompany their lovely cards.
Quality Time:
The Wausau area is packed with options to appease your sweetie that prefers spending time and creating memories. Plan the perfect outdoor date by hitting the slopes at Granite Peak or going on a snowshoe walk under the stars at Nine Mile. Laugh your way down Sylvan Hill while snow tubing, or rent fat tire bikes from Rib Mountain Cycle and roll through flowy, scenic trails. If you prefer indoor activities, embark on a friendly axe-throwing competition at Blades and Boards, get moving while curling at the Wausau Curling Club, stroll through one of the beautiful exhibits at an art gallery or museum, or enjoy a beer flight at a local brewery.
Receiving Gifts:
If your loved one opts for gifts, the area features charming shops to find the perfect gift no matter what they like. Blackash Urban Goods and Clothing offers boutique clothing and fun accessories and decor. The Local in Weston offers specialty gifts and fun plants from Mill Creek Gardens. Janke Books is always perfect for your book lover. Appease your sweet tooth lover with chocolates and other sweet treats at The Chocolate Shop.
Acts of Service:
Tackle the chores while you send your partner to get pampered (or join them). Relax with a mani and pedi from Bliss Nails & Spa in Rib Mountain, or zen out with a massage from Now and Zen Massage.
Physical Touch:
Show your partner how much you love and appreciate them. Test your balance and hold hands while ice skating around the 400 Block. Enjoy a romantic dinner together if you would rather hold each other's hands while sitting. Back When Cafe is an urban-rustic space with dim lighting and mouthwatering dishes. Ciao offers a relaxed yet fine dining atmosphere that will reach your heart through your stomach. For a delectable steak and seafood dinner in a very romantic atmosphere, visit Wish Steakhouse.
Valentine's Day is a great opportunity to show your significant other how much you care. Understanding and celebrating their love language can make the Day extra special and create lasting memories.
If you are looking for a special event on Valentine's Day or want to continue the romance all month long, check out some romantic events in the area, like the Valentine's Ski Date Night at Nine Mile.