Weekend Getaway in Wausau
The Greater Wausau area offers visitors an unforgettable outdoor adventure experience during the spring season. This weekend itinerary is tailored for adventure seekers who love biking, hiking, great dining, craft breweries, distilleries, and unique activities.
Things to do: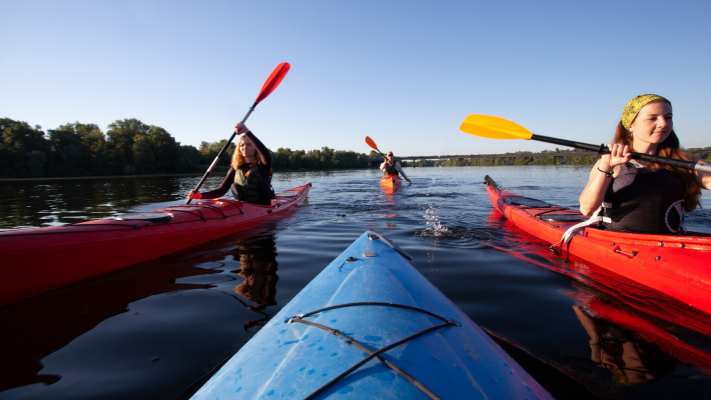 Visit Rib Mountain
Head to Rib Mountain State Park, one of the top outdoor attractions in Marathon County and Wisconsin's third oldest state park. Here, you can enjoy hiking, biking, and breathtaking views from the top of Rib Mountain. Hike or bike to the top of the mountain and enjoy panoramic views of the Wausau area and the Wisconsin River. Climb the lookout tower for even better views. Note vehicle admission sticker is required.
Sip Craft Brews
Wausau's location makes it incredibly easy to visit, tour, and sample craft brews from various sites. Locally, check out Bull Falls Brewery, Wausau's oldest distributing microbrewery, and taste some traditional German-style beers. If food and craft brews are on your radar, Red Eye and the Great Dane are must-stops. Sawmill Brewing and Mosinee Brewing Company are excellent options if you want to venture outside the Wausau area. 
Enjoy the Water
Wausau is a great place to enjoy the water if the weather is nice. Kayak, canoe, or paddleboard down the Wisconsin River, which is easily accessible from one of the many boat landings, including two handicapped-accessible launches. Fishing opens in May, and Wausau is a great place to cast your lines. 
Go Mountain Biking
As the top-ranked small city for biking, Wausau has generated national media stories from Livability, REI Co-Op Journal, and Outside Magazine touting the trails. Marathon County continues to invest with area partners to grow trails. Trail options include; Underdown Recreation Area, Prairie Dells, Big Eau Pleine County Park, Ringle Trails, and Sylvan Hill Bike Park.
Go Ax Throwing
Experience the thrill of axe throwing at Blades and Boards. New to throwing, no worries! Axe Masters will show you everything you need to know before you step into the lane so you can relax and have fun. 
 
Places to Eat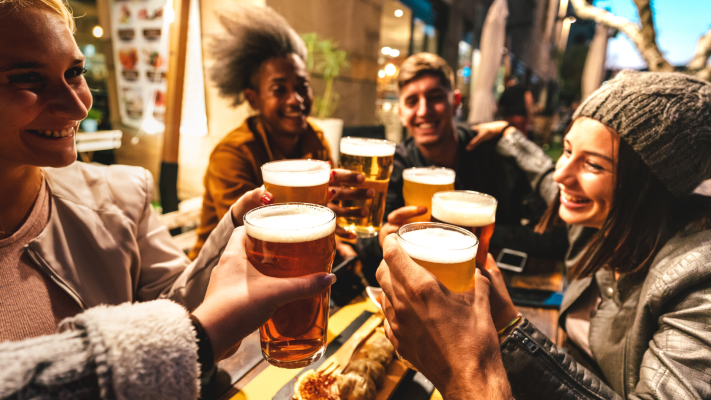 Locals recommend Sconnies Alehouse & Eatery for classic American fare, where you can savor locally sourced dishes and craft beers, highlighting the best Wisconsin offers. 
Thrive Foodery is another popular spot, with its delicious locally sourced steak, pasta dishes, and burgers. They serve up specialty cocktails and craft brews.
Red Eye Brewing Company offers wood-fired artisanal pizza and small-batch craft beers in an inviting atmosphere for casual dining. Focusing on small-batch brewing and locally sourced ingredients, you are sure to leave happy and full. If brews aren't your thing, they have excellent NA options.
If you're looking to explore international cuisine while visiting, your stomach will be satisfied. Newch's Eatery serves up authentic Vietnamese, while Caio offers Italian. For Mexican food, head to El Mezcal for tasty tacos and margaritas with a fun Mexican vibe. Meanwhile, Lemongrass Asian Fusion offers a unique blend of Vietnamese, Thai, and Chinese flavors.
 
Places to Stay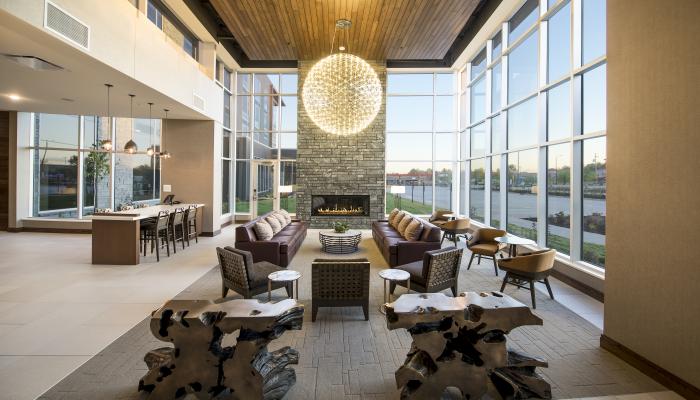 This property screams luxury with its beautiful landscaping, impressive guestrooms, and showstopping lobby/restaurant area. They have an indoor pool, whirlpool, fitness center, and on-site dining just 4 miles from Rib Mountain State Park.
Located in the heart of downtown Wausau, you'll have easy access to everything you need during your stay. This boutique hotel offers transfers to/from CWA, is pet friendly, and has on-site dining, a fitness center, and a pool.
bantr
Perfect for a family getaway, they have whirlpool rooms with fireplaces to bunk bed suites that sleep 7, providing you with the space you need for your family while traveling.