Summer Archery
Saturday & Sunday, June 10th & 11th, 2023
Rib Mountain Bowmen
2348 Julip Drive, Merrill, WI 54452
(Mailing Address: 2385 Julip Dr, Wausau, WI 54401)
Located in the Township of Maine which is 5 miles N of Wausau. Take Exit 197 off HWY 51 at Maine, go west on WW to the first right (there is a sign to the club). Take 32nd Ave north about 2.5 miles, turn right on club road at sign
Athlete Custom Shirt Order Link
Click for Printable Registration Form
Athlete Pricing:   On-Line Registration ends 6/1/23 at midnight!

      single event: $30
 
      additional event: $20
      3D event is outdoors.
      Walk up Registration available 3D only.
Divisions:
(Age Determined as of the first day of the events)
| | |
| --- | --- |
| Ages | Division |
| 12 & Under | Cadet |
| 13-15 | Junior |
| 16-17 | Young Adult |
| 18-54 | Adult |
| 55-64 | Sub Senior |
| 65+ | Super Senior |
Schedule
(Schedule subject to change, check this page for future updates) Please arrive at least 30 minutes prior to your start time.
START TIME:
300 Round: Please select start time during registration. Registering online will give you immediate confirmation of your flight time. Accepted on a first come first served basis. (16 spots available for each time slot.)
3D Event: No specific time required. Competitors shoot upon arrival on a first come – first served basis
No Wagons or carts allowed on the course 
Flight Times:
300 Rounds Saturday: 8:00am, 9:30am, 11:00am, 12:30pm, 2:00pm, 3:30pm, 5:00pm  
300 Rounds Sunday:  8:00am, 9:30am, 11:00am, 12:30pm, 2:00pm, 3:30pm
3D Event: Saturday between 8:00am and 5:00pm   RANGE FINDERS ALLOWED
3D Event: Sunday between 8:00am and 3:30pm     RANGE FINDERS ALLOWED
3D Event No specific time required. Competitors shoot upon arrival on a first come – first served basis.
Note you can shoot both 300 Round and 3D Event.

Shooting styles include the following:
Barebow
Bowhunter freestyle
Bowhunter freestyle Fingers
Freestyle
Freestyle Fingers
Freestyle Limited Recurve (Olympic)
Traditional
Equipment rules:
General Rules 
The bow must have a handle/riser, two limbs, and a string.
The bow must be able to be drawn with one hand while holding the bow's grip with the other hand.
The bow has a maximum peak weight of 80 lbs or less.
The arrow shaft being used has a diameter of 0.422 inches or less.
The arrow point diameter is 0.425 inches or less.
The arrow does not have lighted nocks.
Barebow 
Here are the specific rules if you are shooting in the barebow style:
All equipment (bow, arrows, strings, and accessories) must be free of any markings that could be used as a sighting aid.
The bowstring has one consistent nocking point.
Stabilizers are permitted as long as they do not contact the shooter.
One adjustable draw check is permitted.
One level on the bow is permitted.
Only shooting gloves, tabs, and fingers are allowed to aid in shooting the bow (exceptions are made for handicapped individuals).
All arrows must be the same weight, length, diameter, and have the same fletching.
Bowhunter Freestyle
Up to 5 sight pins may be used.
Release aids are permitted.
Archery sight pin guards and a level are allowed.
One anchor point is permitted.
All arrows must be the same weight, length, diameter, and have the same fletching.
Stabilizers less than 12 inches (from the back of the bow) are permitted.
Stabilizers, stabilizer couplings, V-bars, and counter balances may be used.
No adjustment to equipment is allowed during a round.
Freestyle 
Any type of sight can be used.
Any hand operated release can be used (exceptions are made for handicapped individuals).
The rear stabilizer can not touch any part of the shooter's body
Bowhunter Freestyle Fingers
*  Same as above Fingers Only
Freestyle Fingers
*  Same as above Fingers Only

Freestyle Limited Recurve (Olympic) 
Any type of sight and its written memorandum may be used, providing the sighting mechanism has no magnification. 
Levels, string peep sights, marks, ties or string attachments to the string and electronic devices are not allowed. 
A kisser button may be used.
Release aids shall be limited to gloves, tabs and fingers. In the case of physical disability of the arms or hands, a chew strap may be used in place of fingers.
This style is limited to use of recurve bow or longbow.
Traditional 
Only longbows and recurves are allowed.
No sighting device of any kind can be attached to the bow.
Scoring 3D
Scoring 300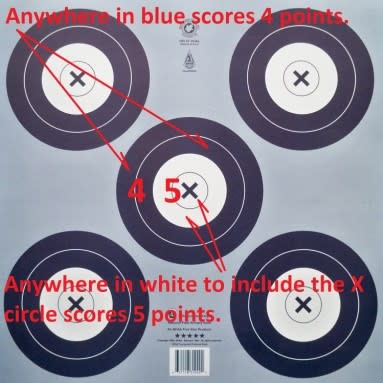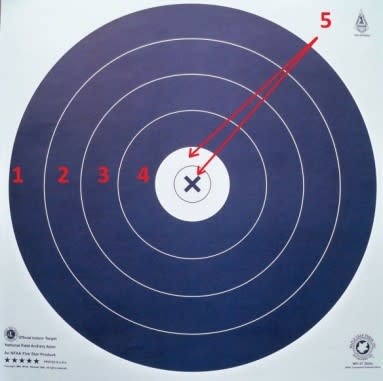 300 Round
Archers shoot the 300 indoor round at a blue and white target face.
It's archer's choice between a single- or five-spot, but everyone shoots 60 arrows – 12 ends of five – for a maximum of 300 points per round. Most targets are set at 20 yards; cubs aged 12 and under shoot 10 yards.
Each shooting line has two ends of practice before scoring begins; halfway through the round, archers switch their targets from top to bottom, or vice versa, on the target butt.
Single-spot target face
The standard single-spot target face measures 40 centimeters in diameter.
It has an eight-centimeter white five-ring – with a four-centimeter diameter X-ring in the very middle – and blue rings scoring four, three, two and one points.
Five-spot target face
Archers can choose to use a five-spot target face.
Each of the five spots has an eight-centimeter five-ring, colored white, and a four-centimeter diameter X-ring in the middle.
Each spot also has two blue rings, both four centimeters wide and both scoring four points.
Archers can shoot at the five spots in any order each end and shoot as many arrows into any spot as they want – as long as they don't shoot more than five arrows each end.
In both faces, Xs are always counted and used as tiebreakers. Arrows only need to touch the line to be given the higher value.
3D
We will have 28 targets on the course.
Start time will be on a first come basis.
All classes will be shooting center 12's.
Target "Pass Through" or "Rebound" without striking another arrow: (1) Arrows passing through the front of, but still in, the target will be pushed back and scored; (2) If the group agrees that an arrow passed through the targets insert seam the shooter will be given a score based on the point of pass through not to exceed eight 8 points; (3) If the group agrees and confirms that the arrow actually passed through the target due to the high number of arrows that had been shot at the target, the range official is to be notified and the shooter will be allowed to take the score where the "pass-through" occurred as determined by the group up to a maximum score of 10 points, or (4) If the group agrees that the arrow rebounded out of the target, or deflected off of a plastic leg, without striking another arrow the shooter will be allowed to take the score where the rebound occurred up to a maximum of ten (10) points. Special Note: A score of 12 will not be permitted under sections 2, 3 or 4 of this rule.
Any arrow embedding ("Robin Hood") in the nock of another arrow will be scored the same as the arrow it is embedded in.
Any arrow rebounding backward off another Arrow (a "Robin Hood" that strikes and damages another arrow and does not proceed toward the target, but bounces back) will be scored the same as the arrow it struck, provided the damaged arrow can be identified.
Any arrow deflecting by contact with another arrow already in the target and still proceeding toward the target will be scored based on where it lies in the target or a maximum of five (5) points if it is not in the target.
An arrow that drops while being nocked onto the string in preparation for a shot may be picked up and shot with no penalty. If in the process of letting down an arrow drops off the bow, or is jarred off by hand contact with bow, it may be picked up and shot with no penalty. The shooter is responsible for maintaining control of the arrow at all times and an arrow must not be released or otherwise propelled by the string or it will be scored a zero.
A shooter may only let-down two (2) times on a target. Upon a third letdown, the shooter will receive a score of zero for that target.
Rules and Regulations
The shoot will consist of a single 28 target course.
Archers will shoot one arrow per target.
The entire tournament will be marked yardage.
Rangefinders are allowed.
Verifiers are allowed in Freestyle Hunter.
Archers must touch stake with part of clothing or body or straddle with both feet.
No compromising of the shooting stake.
Each archer will be allowed 2 minutes at the shooting stake.
Mechanical Breakdown
In the event of a mechanical breakdown of a shooters bow or release, (not arrows), the group must agree that the item is indeed defective. 
The shooter will have 30 minutes to repair or replace the defective equipment. 
If the shooter is unable to do so, the targets already shot will be used for his or her score.
If the shooter is able to make repairs, they will be put back in the group if possible. 
SCORING
The shoot will be scored in a neutral group setting, no exceptions. 
Archers will not be able to score own card. 
Score card needs to be signed by the shooter and the score keeper.
All targets will be scored 5-8-10-12 using the center 12 in all classes.
Scoring will be done by your individual groups.
Spectator Information:
For those that want to cheer on our athletes and to see them bring home the gold here are a few tips:
Best place to view the event & how much you can see: Spectators can most if not all of the event through the glass windows at the RMB bow club. Mind you there are a few blind spots and space is limited.
Seating Available or bring your own chairs: There are chairs and seating however again space is limited so be prepared to stand.
Admission Fee: No
Concessions: Yes
No alcohol allowed on shooting range.
Merchandise: Club apparel is available for purchase as well.
Are Signs or Noise makers allowed: No please this is a sport of concentration so no distractions please.
Other Information: In the event of bad weather traffic will need to be routed to arrive from the north of the club as the roads in the steep hills can be treacherous. Please use County Hwy K take Maine Dr to the east and then turn south on N 28th Ave and turn east to on Julip Dr to the club.
Results:
Awards will be mailed to recipients - if you live more than 30 miles from Wausau. Those who are within 30 miles need to pick them up at the Visitor Center.
300 Round Results & 3D Results:
3D Results Summer 2022

300 Round Results Summer 2022
Click Here for Final Results from 3-D Shoot 2020
 
2019 Final Results Summer Games:  
300 Round Final Results
3D Results  Final Results
2019 300 Round Preliminary Results
2018 Results Winter Games
2018 300 Round Results
2018 3D Results

2017 Results Winter Games
2017 300 Results
2017 Winter 3D Results

2016 Results Winter Games
2016 300 Round Results
2016 3D Results

2015 Results Winter Games
2015 300 Round Results
2015 3D Event Results
Please remember that the results take a week to be final after the last day of the event. We will make a note next to the link to indicate if they are final or just preliminary! Thank you for your patience and understanding.
Questions:
Sport Specific Questions: Contact Event Director: Tony Heil: Theil1820@gmail.com  715-297-7555
Online Registration/Website Questions: Contact the Badger State Games office at 715-355-8788 or info@badgerstategames.org
Sunday October 16th, 2022 Wausau West Fieldhouse 1200 West Wausau Avenue Wausau WI 54401…