📍 901 E Thomas St, Wausau, WI 54403 
Started in the early 2000s by Mike and Don Zamzow, Bull Falls Brewery has expanded from brewing only an Oktoberfest beer to now offering almost 20 different brews throughout the year. Their most popular beers are Holzhacker Lager, Sundogg Belgian Wit, Five Star Lager, and Midnight Star Lager. The brewery has multiple beers that reflect their connection to Central Wisconsin - The Marathon Superfine Lager is based on a beer that was brewed by Marathon City Brewery before it closed in 1966 and the Maple Pecan Porter contains Wisconsin maple syrup! Bull Falls Brewery offers tours on select Saturdays so make sure to check out their website for the available dates.
👉  Bull Falls Brewery recently opened a coffee shop on-site with espresso drinks, bakery items, and breakfast sandwiches.
📍 2305 Sherman St, Wausau, WI 54401
This Madison based pub and brewery has been a Wausau institution for many years. The pub has many delicious meal options such as fish and chips, salads, and burgers. They also have a kids menu which includes a plastic souvenir cup. A few of the Great Dane's flagship beers include a German-Style Pilsner, Crop Circle Wheat Hefewiezen, Good Dog IPA, and Black Earth Porter. The Great Dane also has some unique limited release beers, including Bourbon Barleywine, Strawberry Tart Fruited Gose, and the Fruited Brett Belgian Prairie Triple. Want the insider treatment? Join the Great Dane's Stein Club to receive a discount on stein and growler fills, a free birthday boot, and other benefits.
👉  The Great Dane also has a rewards program that gives you a discount on your next visit.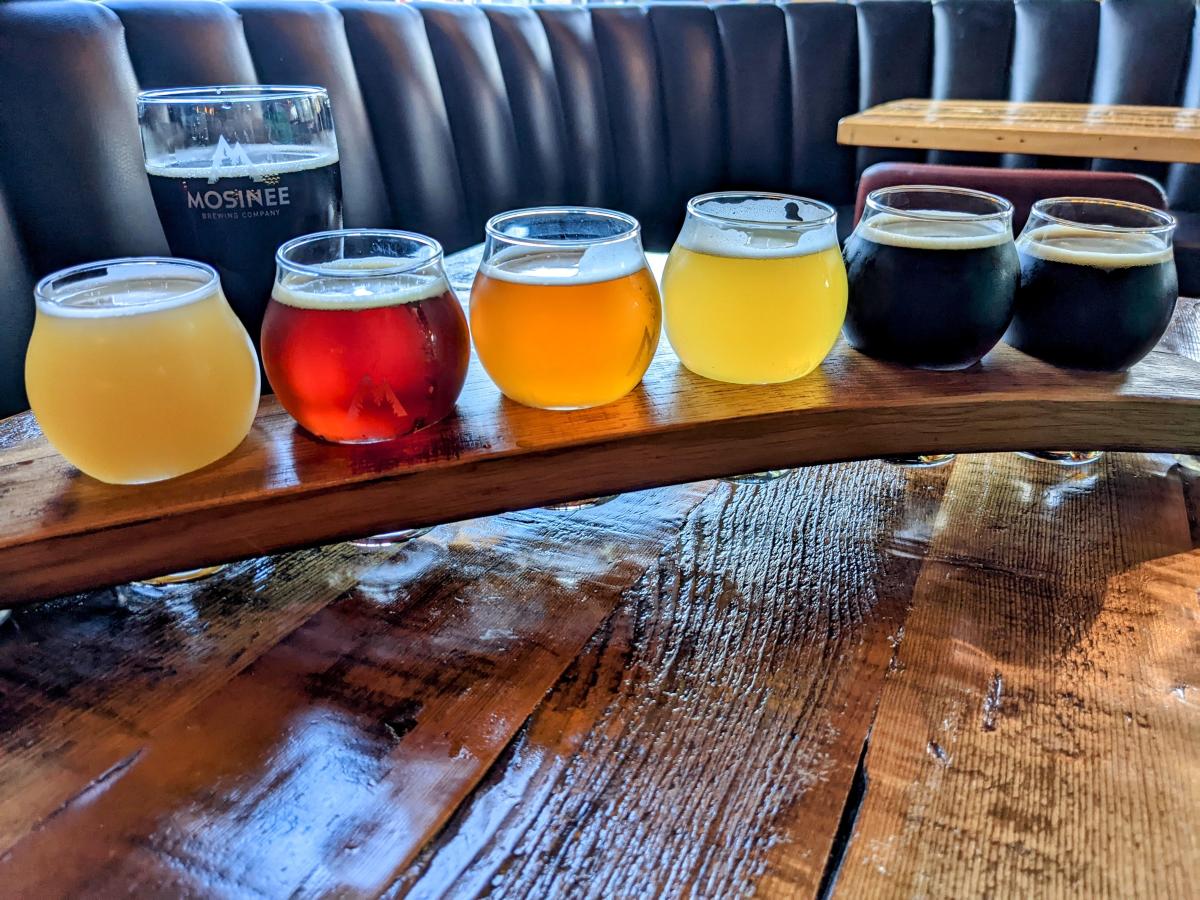 📍 401 4th St, Mosinee, WI 54455
Mosinee Brewing Company has a beautifully designed taproom in Mosinee (just south of Wausau). The brewery has packaged popcorn, pretzels, and pizza for sale and guests are also allowed to bring in their own food or take-out. (Personally, I'd recommend Casa Mezcal, which is within walking distance.) Mosinee Brewing Company has a great variety of beers. Their recent offerings included a pineapple IPA, a spicy habanero pale ale, an imperial stout, and a prickly pear seltzer.
👉  Kids will enjoy Mosinee Brewing Company's maple root beer and the fact that they have board games available to borrow.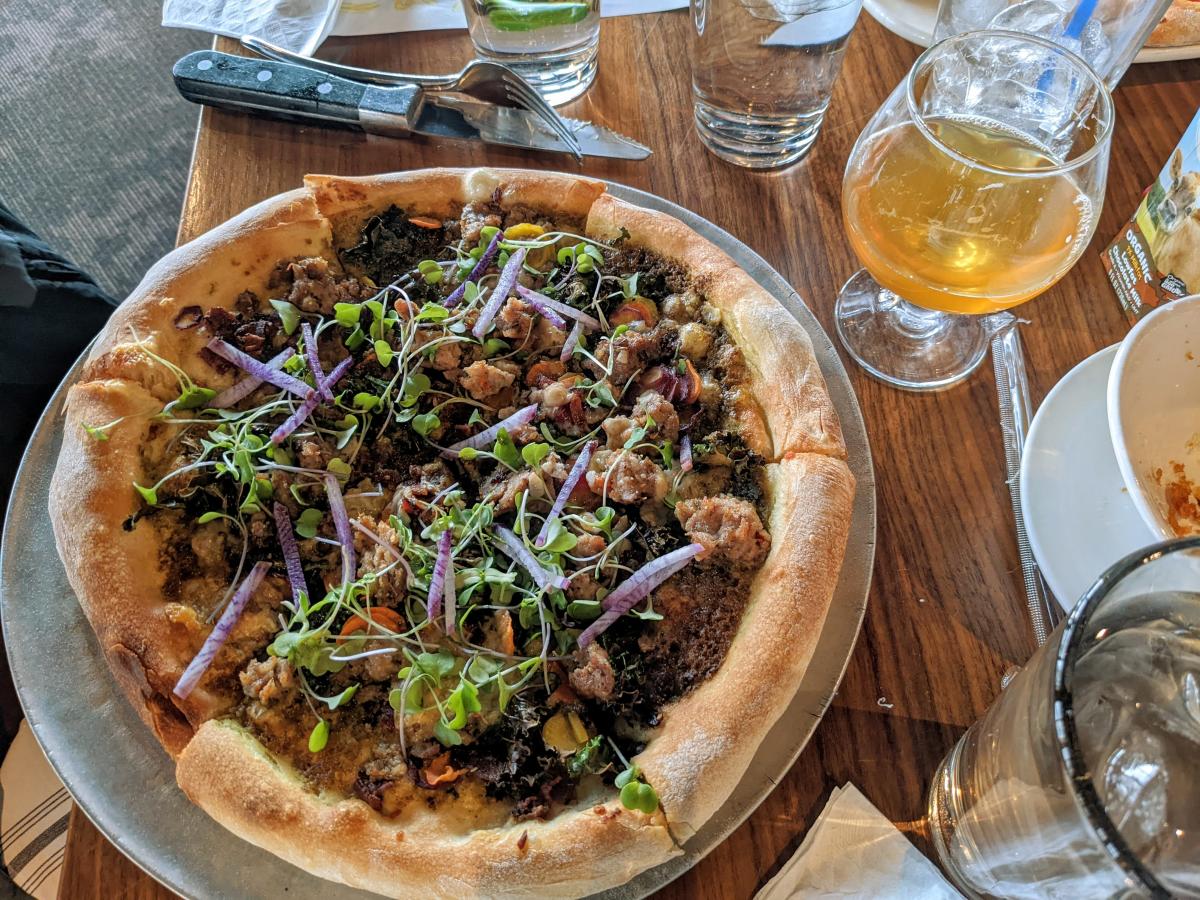 📍 612 Washington St, Wausau, WI 54403
Red Eye Brewing Company is a full-service restaurant with a focus on sourcing ingredients from local farms. Visitors can sit indoors, under bicycles suspended from the ceiling, or outside on their umbrella-covered patio during the summer. According to the owner, Kevin Eichelberger, the number one selling beer at Red Eye is Thrust, which is an American IPA. Next would be their New England/Hazy IPAs (Crazy for sw-HAZY-e, Kitten Whiskers, Battlestar Shotgun) and third are their lighter offerings such as, "Man Pants" Kolsch or "Bloom" a Belgian-style wheat beer. Red Eye Brewing Company also has many popular seasonal beers, such as "A Cart Ride" a Cinco de Mayo Maibock and "Festbier" an Oktoberfest-style beer. With 36 years of brewing experience, visitors are sure to be impressed by the high-quality brews.
👉  Red Eye has a kids menu (pizza, mac & cheese, etc.) so it's a great place to bring the whole family.
📍 1110 E 10th St, Merrill, WI 54452
Sawmill Brewing Company was founded in 2016 and has 16 craft brews on tap. (Coincidence?) The brewery is located in a former 1940 DNR ranger station and the sawmill theme pays homage to the area's logging past. Sawmill Brewing Company sells their own snacks (think pizza and charcuterie boards) but if you're looking for a meal they often have food trucks on site on the weekends, or you can bring in take-out from one of the local restaurants. Their three most popular beers at Sawmill are Rip Saw Irish Ale, Boom Decker Becker IPA, and Birch Bark Blonde Ale. Check out their website for their live music and food truck schedules!
👉  Sawmill Brewing Company has non-alcoholic drink options too, such as Stevens Point Brewery Root Beer and sodas from Twig's.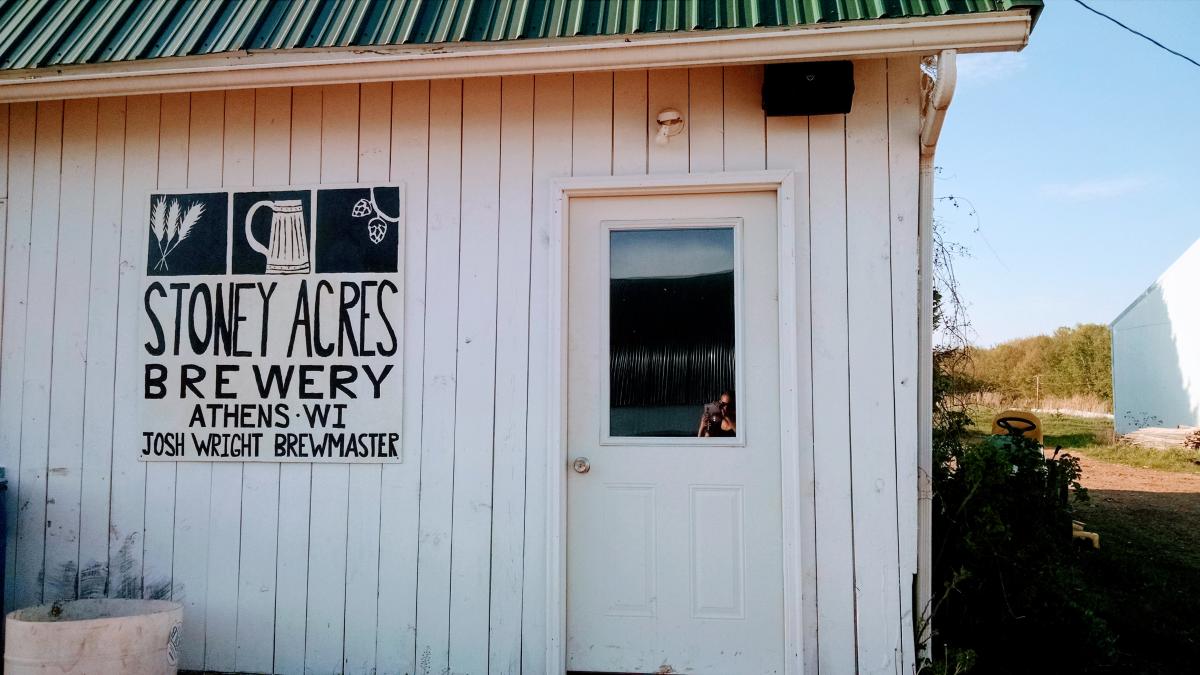 📍 245728 Baldwin Creek Rd, Athens, WI 54411
Stoney Acres Farm is best known for their Friday and Saturday night Pizza on the Farm events. Stoney Acres pizzas are made with a whole-wheat dough and lots of delicious farm-fresh toppings - maple sausage, beets, mushrooms, goat cheese, fennel, kale - and cooked quickly in one of the three wood-fired ovens. Stoney Acres Farm added a brewery in 2019 since, as they say, "beer and pizza go hand-in-hand". Some of their brews include Athens Light (with its funny commercial), Roll in the Hay IPA, and Rubango (a rhubarb mango sour). Check their Facebook page for current beer and pizza offerings and click here for their 2022 Farm Musical Calendar.
👉  Kids will enjoy playing on Stoney Acres' playground and seeing the hogs, cows, and chickens.
📍 130 1st St, Wausau, WI 54403
Whitewater Music Hall is located in downtown Wausau in the old Masonic Lodge building which is now an interesting blend of old and new. In the morning, Whitewater Music Hall is a great place to grab some coffee and a light breakfast. In the afternoon and evening, it's a hip spot to hang out while drinking one of their micro-brews and nibbling on some "Fancy Toast" or a "Fancy Dog". The top three beers at Whitewater Music Hall are Fashionably Late Hazy IPA, Nelz' Pilzner, and their seasonal fruited sour (currently strawberry). As their name suggests, music is a big part of their business! You can click here to see their performance schedule. Whitewater Music Hall also has a local artists' gallery with an ever-evolving display of local art.
👉  Help your kids stay entertained by letting them pick out one of the board games next to the bar. Connect Four was a hit with our kids!