Camping Along the Great Pinery Heritage Waterway Trail: An Aquatic Adventure
Introduction
Are you a water enthusiast looking for a unique camping experience? Imagine paddling along serene waterways, surrounded by nature's beauty, and setting up camp right on the water's edge. If this sounds like your idea of a perfect adventure, then the Great Pinery Heritage Waterway Trail in Wisconsin is the destination you've been dreaming of. This picturesque trail offers an array of campgrounds that allow you to camp without leaving the water trail, making it an unforgettable journey for outdoor enthusiasts and nature lovers alike
.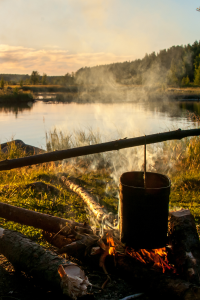 Exploring Lincoln County Campgrounds
In the stunning Lincoln County, you'll discover three fantastic campgrounds along the Great Pinery Heritage Waterway Trail. Each one offers something special for visitors to enjoy:
SARA Park Landing: Located in Lincoln County, SARA Park Landing is a haven for families and outdoor enthusiasts. With amenities like a playground, baseball diamond, and a sandy beach, this campground is perfect for those seeking recreational activities during their waterway adventure. Paddle during the day and unwind with beachside relaxation in the evening.

Camp New Wood County Park Landing: If you prefer a more primitive camping experience, Camp New Wood County Park Landing is the ideal spot. Nestled along the water trail, this campground provides a few first-come, first-serve campsites for those who love to embrace the raw beauty of nature.

Council Grounds State Park Landing: A true gem among the Lincoln County campgrounds, Council Grounds State Park Landing offers a delightful combination of outdoor activities. From a sandy beach to a fishing pier and picturesque hiking trails, this campground caters to both water and land-based adventurers.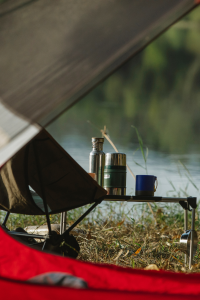 Marathon County Campground Options
In Marathon County, the adventure continues with two splendid campgrounds along the Great Pinery Heritage Waterway Trail:
Wisconsin County Forest: Embrace the tranquility of the Wisconsin County Forest campground as you float down the water trail. Immerse yourself in the wilderness and experience the calming effect of being surrounded by nature's wonders.

Lake Dubay Park: Known for its breathtaking views, Lake Dubay Park is an ideal spot for on-the-water camping. This campground offers a charming beach area, inviting you to take a refreshing swim after a day of paddling.
What to Bring for the Ultimate Waterway Camping Experience
To make the most of your aquatic camping adventure along the Great Pinery Heritage Waterway Trail, ensure you pack the following essentials:
Watercraft: Whether you choose a canoe, kayak, or paddleboard, your watercraft is the heart of your journey. Don't forget paddles and life jackets too!

Tent and Sleeping Gear: Select a sturdy, waterproof tent and comfortable sleeping bags or air mattresses to ensure a restful night under the stars.

Cooking Supplies: Pack a portable stove, cooking utensils, and easy-to-prepare meals for delightful waterside dining.

Water and Hydration: Stay hydrated throughout your trip by carrying plenty of fresh water or water purification systems.

Appropriate Clothing: Pack moisture-wicking clothing to stay comfortable during your paddling and camping excursions. Don't forget extra layers for cool evenings.

Sun Protection: Bring hats, sunglasses, and sunscreen to shield yourself from the sun's rays.

Insect Repellent: Keep those pesky bugs at bay with a reliable insect repellent.

Camping Permit and Maps: Ensure you have all necessary permits and maps for the campgrounds and waterway trails.

First Aid Kit: Be prepared for minor injuries and ailments with a well-stocked first aid kit.

Camera or Binoculars: Capture the breathtaking views and spot wildlife with a camera or binoculars.
The Great Pinery Heritage Waterway Trail in Wisconsin offers a thrilling and unique camping experience for water enthusiasts and nature lovers. From the picturesque campgrounds in Lincoln and Marathon Counties to the tranquil beauty of floating along the water trail, every moment of this adventure promises to be unforgettable. So, grab your watercraft, pack your camping gear, and immerse yourself in the serenity of nature on this extraordinary aquatic journey.
Stay tuned for updates on new on-the-water camping spots, and happy camping! #GreatPineryHeritageWaterway #wisconsin #wausau #paddle #canoe #kayak #outdoors #travelwisconsin #camping
Agriculture has a prominent role in the Wausau area, and a number of our attractions and activities…
The Wausau area has a variety of indoor and outdoor swimming options for year round entertainment!
Golfing in the Wausau area is convenient, affordable and offers spectacular scenery.
There are a number of tennis facilities throughout the Wausau area.  From courts located…
Granite Peak Ski Area at Rib Mountain State Park offers some of the BEST skiing in the Midwest…
Sylvan Hill Park is home to the longest tubing hill in the state at 1,200 feet.  It offers six…
As the largest county in Wisconsin, Marathon County boasts 880 miles of snowmobile trails and 29…
Horseback rides, sleigh rides, and hayrides are perfect times to spend with family and…
Area skate parks have plenty of room and lots of great obstacles to challenge your skills.