Were you inspired by the Winter Olympics to try a new winter sport? Cross-country skiing is a great place to start, and Wausau, Wisconsin has the perfect park for trying this winter activity that can be enjoyed by both kids and adults alike.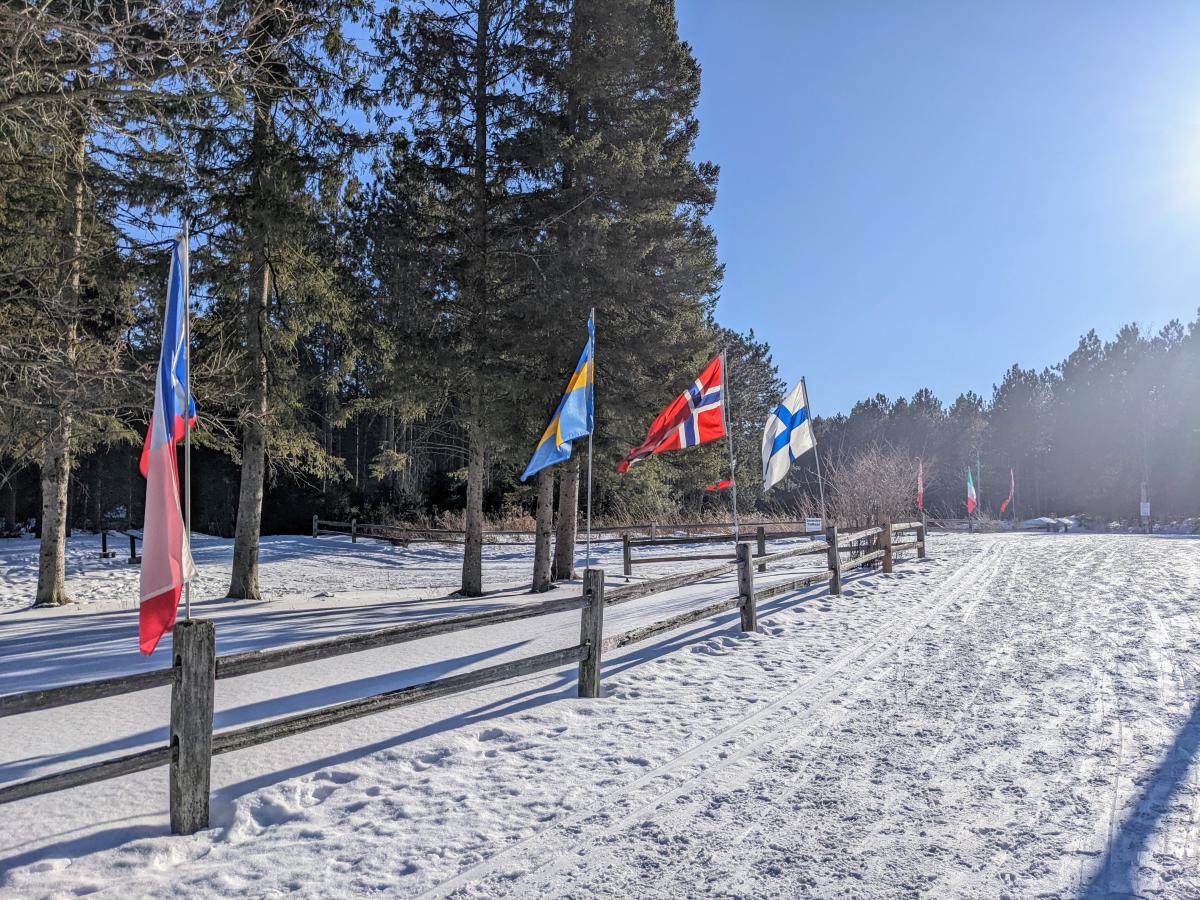 Just southwest of downtown Wausau lies the area's premier cross-country skiing destination; Nine Mile County Forest. With over 30 km of trails, beginners and experts alike will enjoy exploring the beautiful and serene winter wonderland!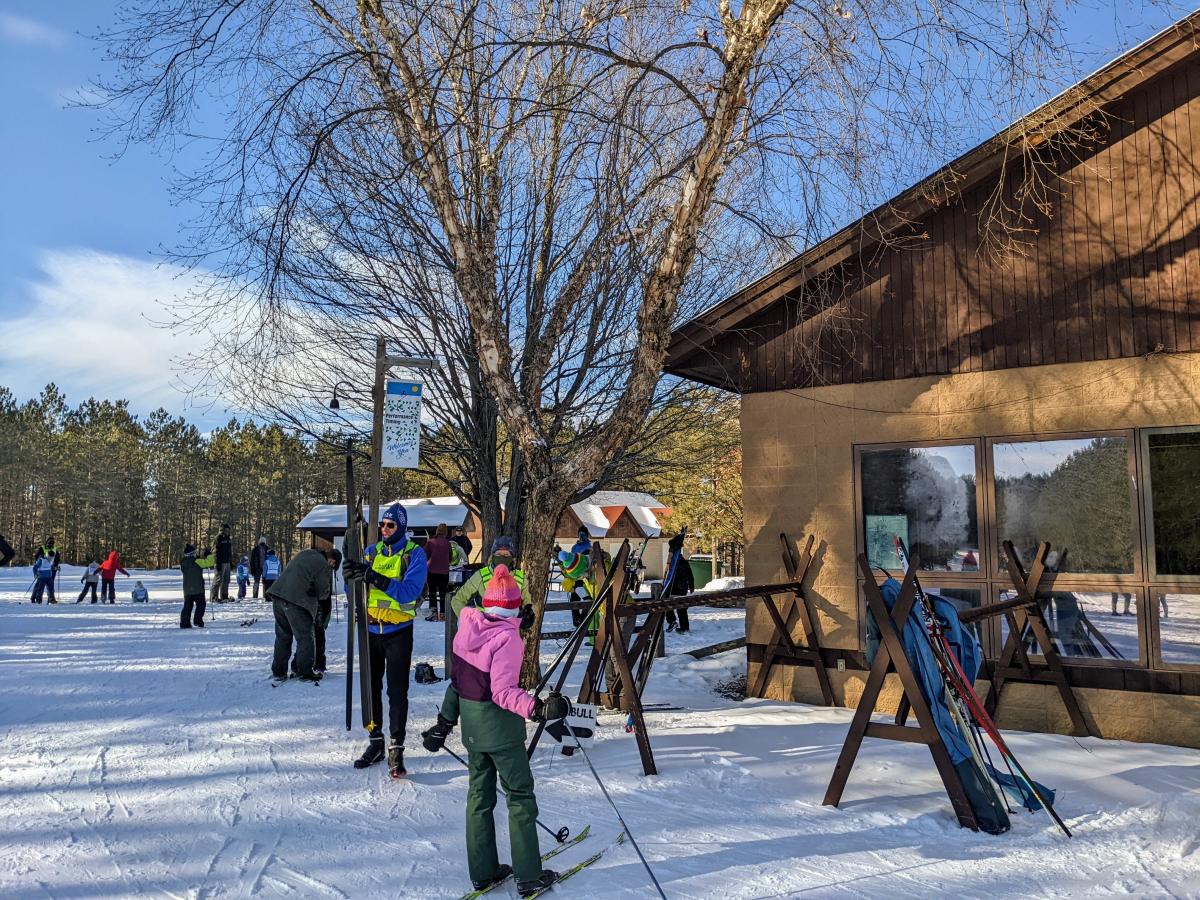 Cross-country skiing at Nine Mile County Park is fun for all ages
Choose your adventure!
Before you arrive, figure out if you want to try classic skiing or skate skiing. (Classic skiing is usually easier for beginners.) At the Nine Mile Country Forest chalet (221700 Red Bud Road in Wausau) you can rent boots, skis, and poles, and purchase your trail pass. The chalet is open from 9am - 9pm Monday - Friday, 8am - 9pm on Saturdays, and 8am - 5pm on Sundays and has a warming area, bathrooms, and drinking fountains. An adult day pass is $12 ($7 after 5pm) and a full equipment rental is $15. At $27 per day, this is a great deal! (Especially when compared to downhill skiing which can cost hundreds of dollars per day!)
TIP: If you're skiing as a family, kids age 12 and under get a free ski pass and a full equipment rental for this age group is only $10 per day.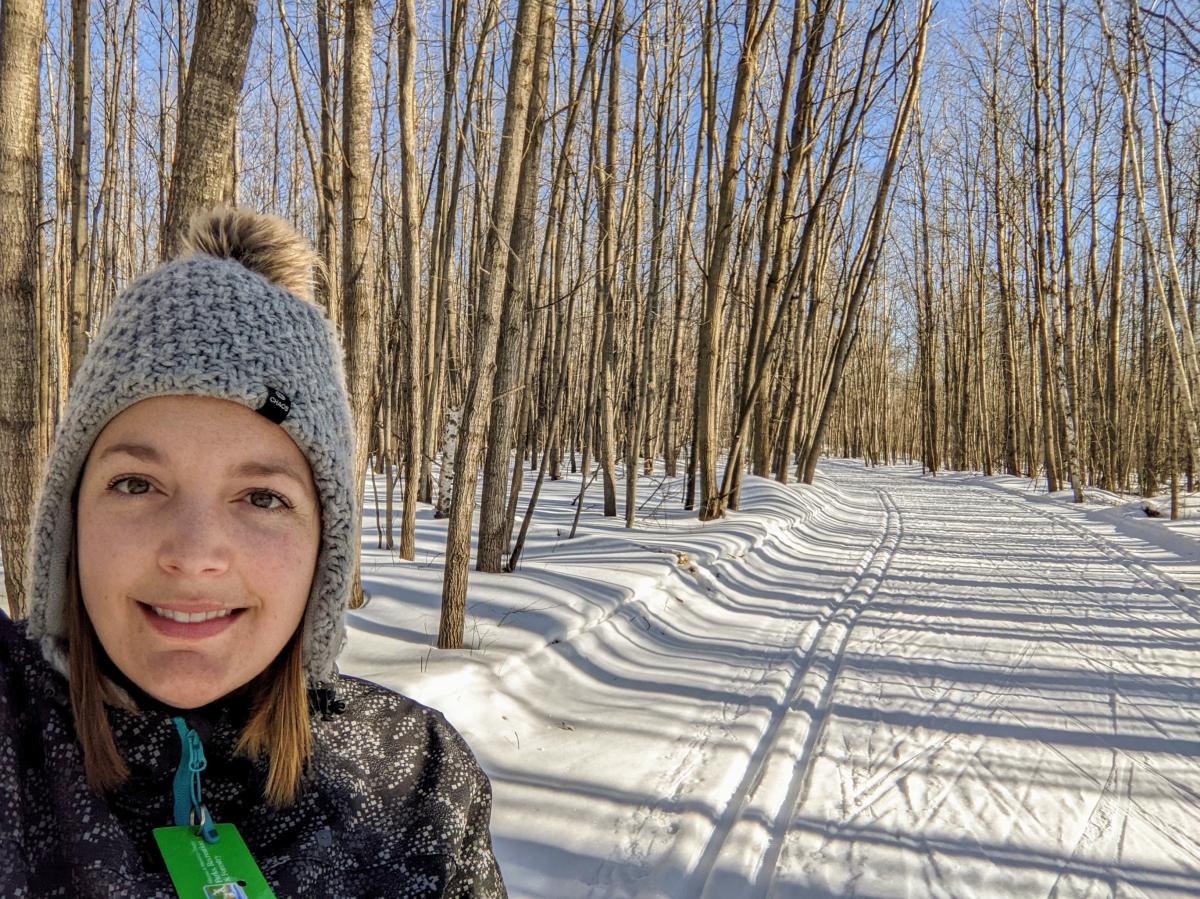 Wearing the right gear while cross-country skiing is important
Gear up!
A common beginner mistake is to over-dress for cross-country skiing. Unless the temperature is in the single digits or below, you will probably be uncomfortably warm if you wear your warmest winter coat and snow pants. Instead, you'll want to dress in warm and water-resistant layers. You will not need ski goggles, but sunglasses are helpful on sunny days. Medium weight gloves/mittens and a hat/headband are also important. For all distances, make sure to bring a trail map and cell phone. If you plan to ski for a long distance, bring a water bottle and a small snack. If you're doing multiple loops, you can stop at the chalet to grab a drink!
TIP: The chalet does have a small selection of snacks and drinks, but feel free to bring your own.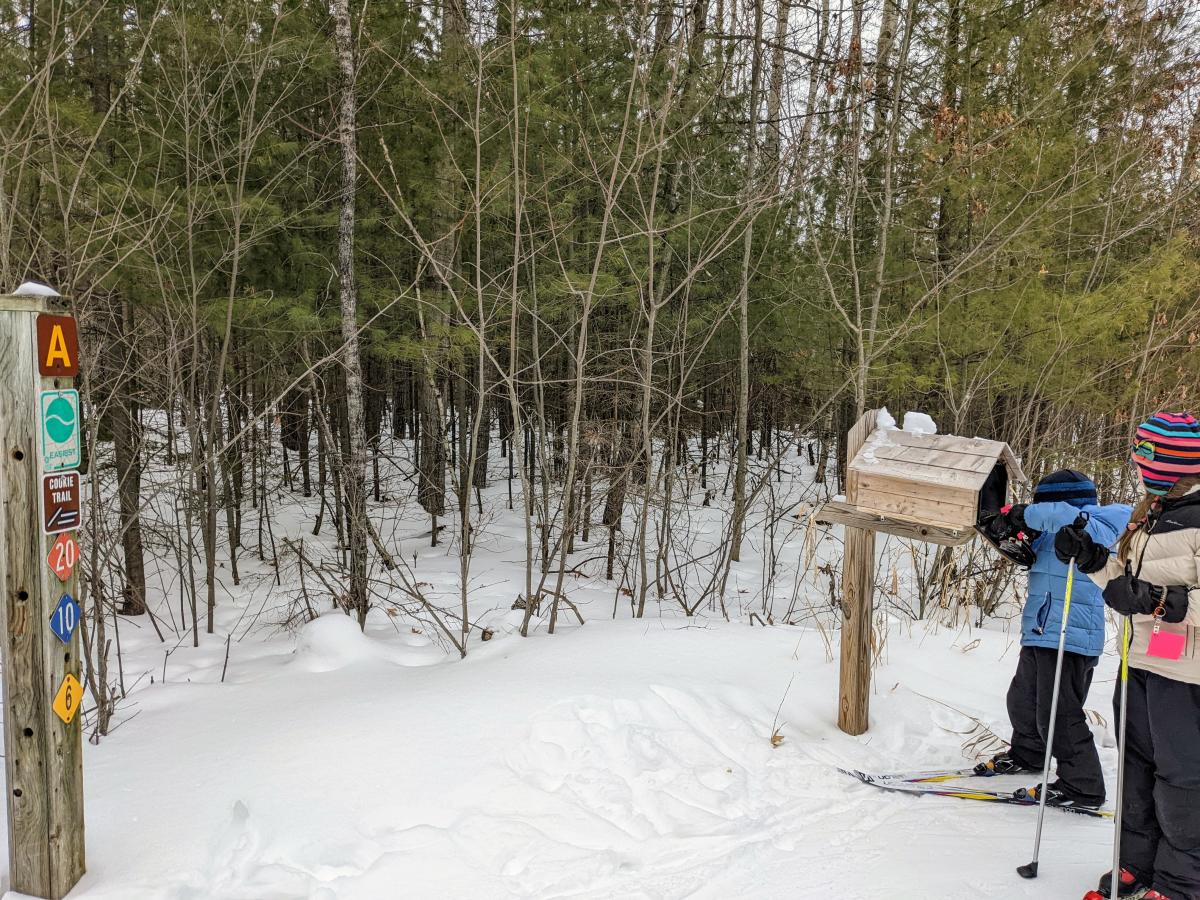 Kids can get a punch card for the Cooke Trail at the chalet
Choose your route!
Nine Mile County Forest has 5 marked cross-country ski trails:
Kids Loop (.5 miles)

Cookie Trail (1.7 miles)

6K (3.7 miles)

10K (6.2 miles)

20K (12.4 miles)
As a relatively new skier myself, I can tell you that true beginners should NOT start out by skiing the 6K loop. This might sound silly, but I would recommend that beginners (even adults) should try the Kids Loop first, the Cookie Trail second, and then the 6K third if you still have time and energy! The first two loops will bring you back to the chalet, which will give you the opportunity to adjust your layers, get a drink or snack, and use the bathroom. There is a big skill level increase from the Cookie Trail to the 6K. Not only is the 6K trail two miles longer, but there are also some very steep uphill and downhill sections, which can be a real challenge for beginners. 
TIP: If you're skiing the Cookie Trail with your kid(s), make sure to pick up a punch card in the chalet. They can punch their card at every mailbox along the route and return their card at the chalet for a free bag of cookies!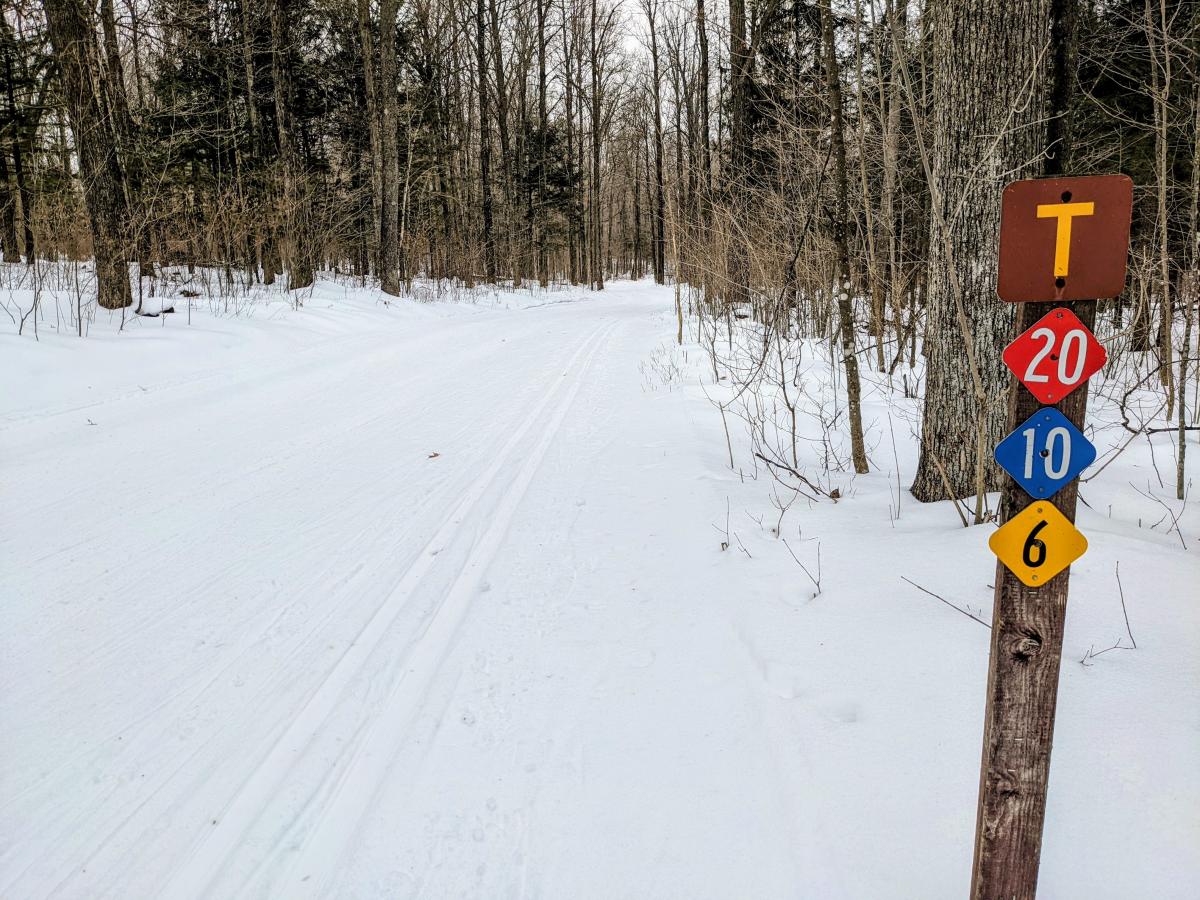 Trail markers for the 20K, 10K, and 6K
Stay on track!
Here are some tips to make sure you stay on your chosen route:
Kids Loop: From the chalet head South in the "left lane". (There's a sign that says "Kids Adventure Trail".) Continue straight until you see signs for the Kids Loop, which will turn left. (There is currently a "Trail Tale" book along this route which makes it extra fun for families!) After a downhill section you will wind up back at the chalet.

Cookie Trail: From the chalet head South in the "right lane". Continue straight until you come to the first mailbox. (Kids who have a punch card should use the hole punch in the mailbox.) You'll know you're on the right track if you see additional mailboxes and wooden posts with a cookie symbol on them. The loop will bring you back to the chalet.

6K, 10K, 20K: Wooden posts along the trails will have a yellow diamond with a 6 for the 6K, a blue diamond with a 10 for the 10K, or a red diamond with a 20 for the 20K. If you keep an eye out for these markers, it's easy to stay on track!
TIP: If you are a beginner who is classic skiing and you arrive at a very steep downhill section, you have a few options: ski with your left foot out of the track at an angle to slow yourself down, ski fully out of the track with your skis in a wedge/pizza shape to go slowly, or take your skis off and walk down. If you're having trouble going uphill, you can get out of the track and "walk" up with your skis in a reverse "pizza", step up the hill sideways on your skis, or take your skis off and walk up in your boots. It's better to be safe than sorry. An injury-free experience is the goal!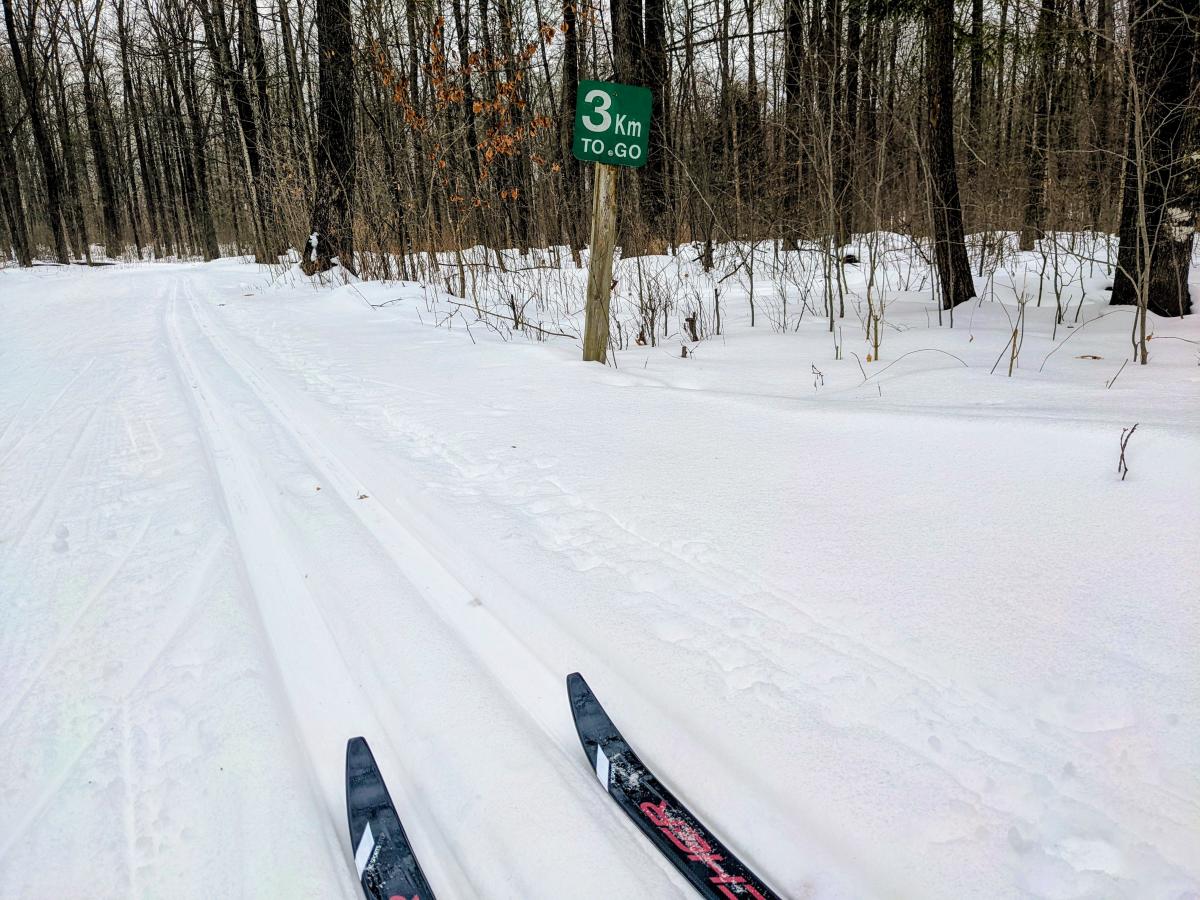 3 kilometers left to go!
Enter to Win a Prize!
Yes, that's right - you could earn a prize from IRONBULL, a nonprofit that promotes outdoor adventure sports in Central Wisconsin, for logging your cross-country skiing (or snowshoeing) outing at Nine Mile County Forest from December 2021 - March 2022! The Winter Challenge is free to enter and there are multiple ways to earn a prize. Check out the details here.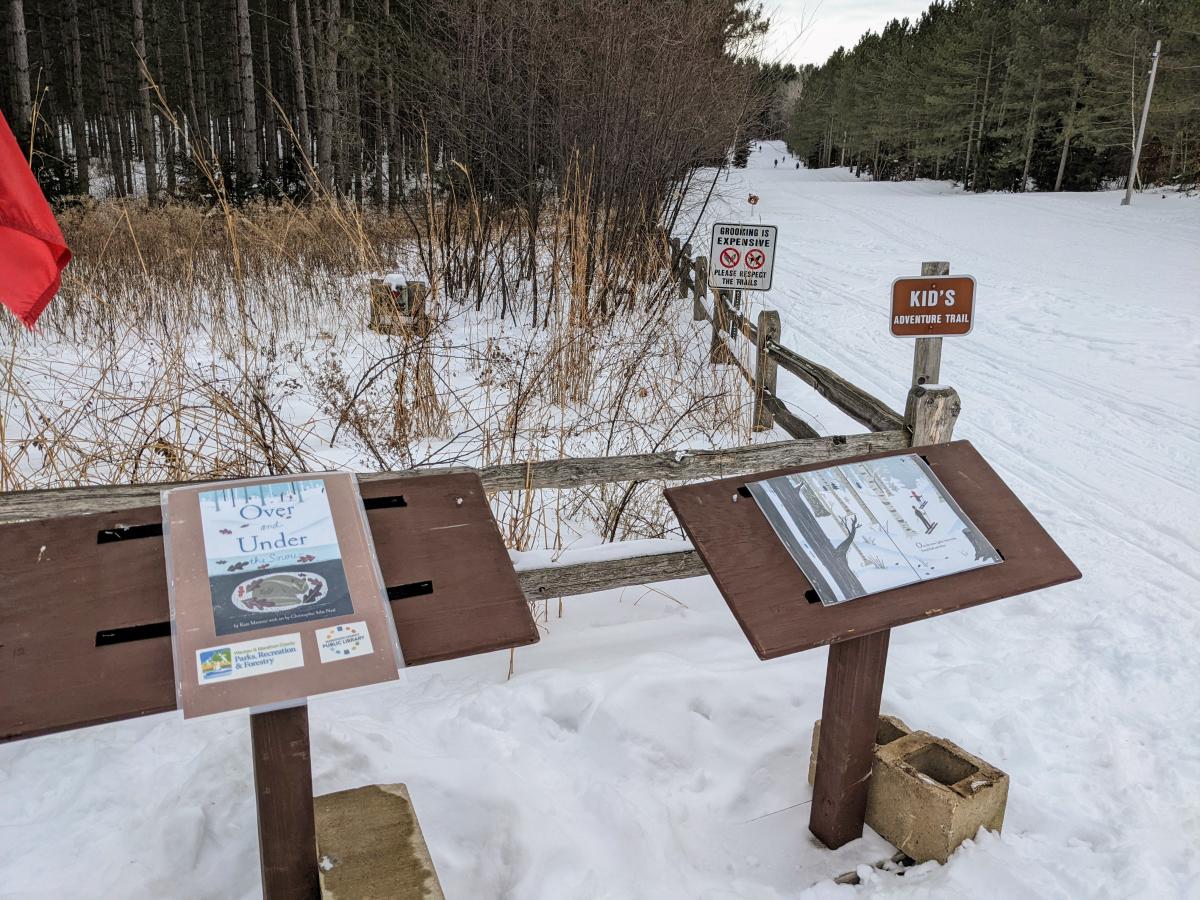 Trail Tale book "Over and Under" on the Kids Loop