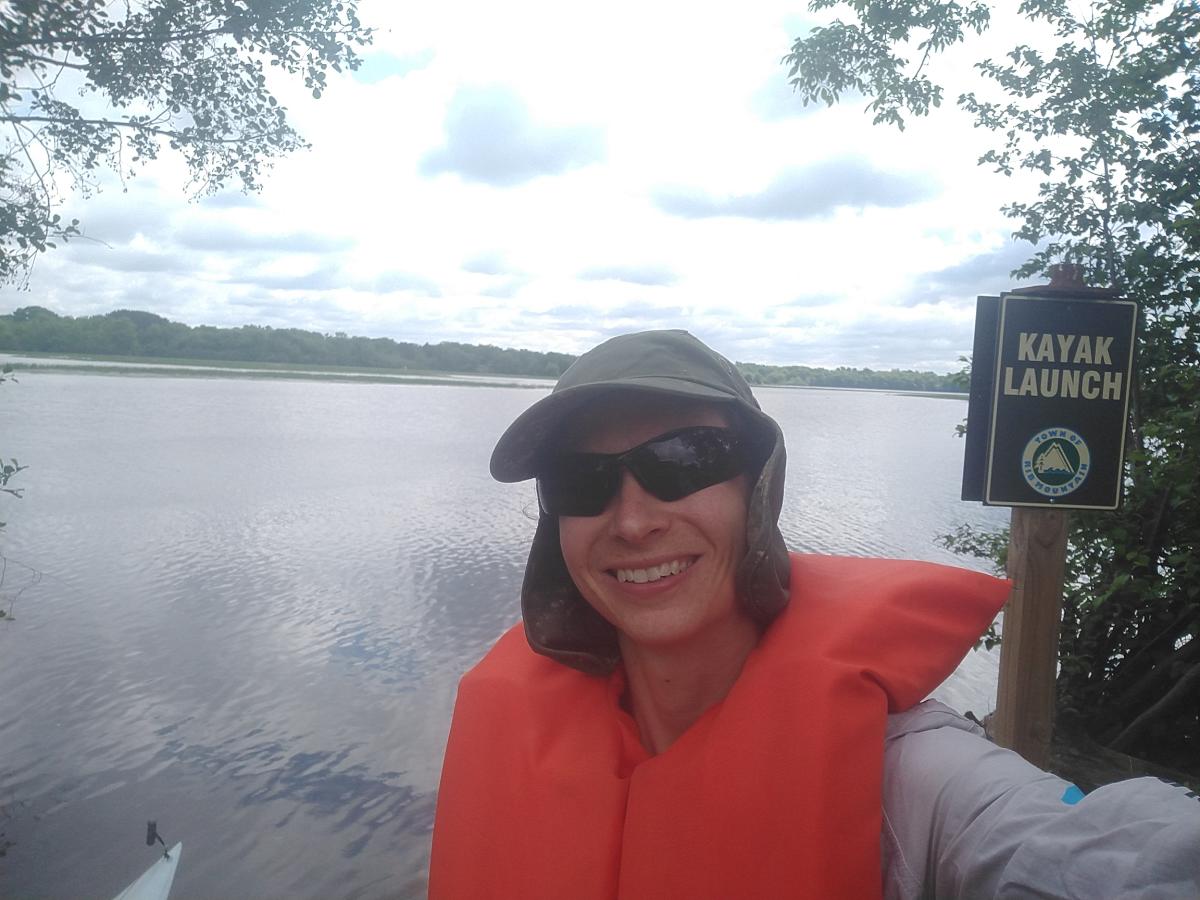 Launching for the first time solo from Rookery Park in Rib Mountain.
I would not call myself a paddler. As I left the shore, I came to realize this was my first solo paddle outing, ever. Even though I had done several adventure races that included paddling, sometimes up to several hours, I had always relied on someone else with more paddling knowledge. But not today. As I pushed off from the shore, I felt freedom as I drifted into the water. Today, I would discover Wausau in a new way on the water. I had plans to cover as much ground, ahem, water as possible, where I ended up covering 11 miles on the water. Pretty good for my first outing of the year.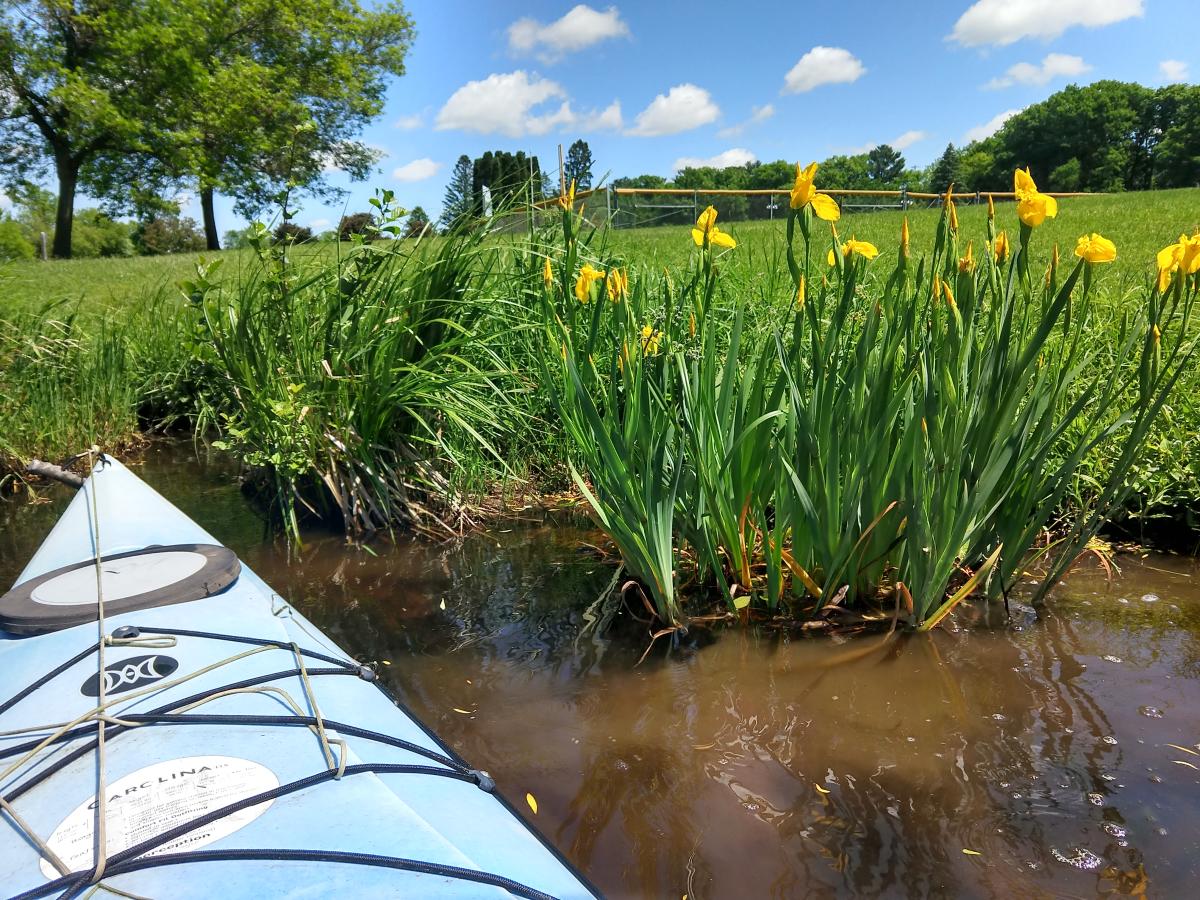 Flowers along the water at Memorial Park was worth a stop.
The first step is the hardest
My first victory was just getting the kayak unloaded. Although my friends that lent the kayak to me loaded for me (I know a pretty good deal!), now I was on my own to get it out of the vehicle into the water. I have to admit, I am not a mechanical person - it once took me ten minutes to figure out how the three piece divider fit back into my freezer after cleaning it. After a lesson on ratchet straps (yes I asked for a lesson) from my husband, I successfully disengaged the ratchet straps and muscled the kayak to the kayak launch at Rookery Park in Rib Mountain. That is after I shooed the geese away.
Exploring the Rib River
First, I headed west up the Rib River passing under Hwy N and then making a loop around an island at Hwy 51, since I had paddled the next section of the Rib River before. On aerial maps it looked like there was a canal to Gulliver's Landing so I took that on the return route so it was almost entirely a loop rather than an out-and-back. As an added bonus, a lot of these waters are too shallow for boat traffic!
Rookery to Bluegill County Park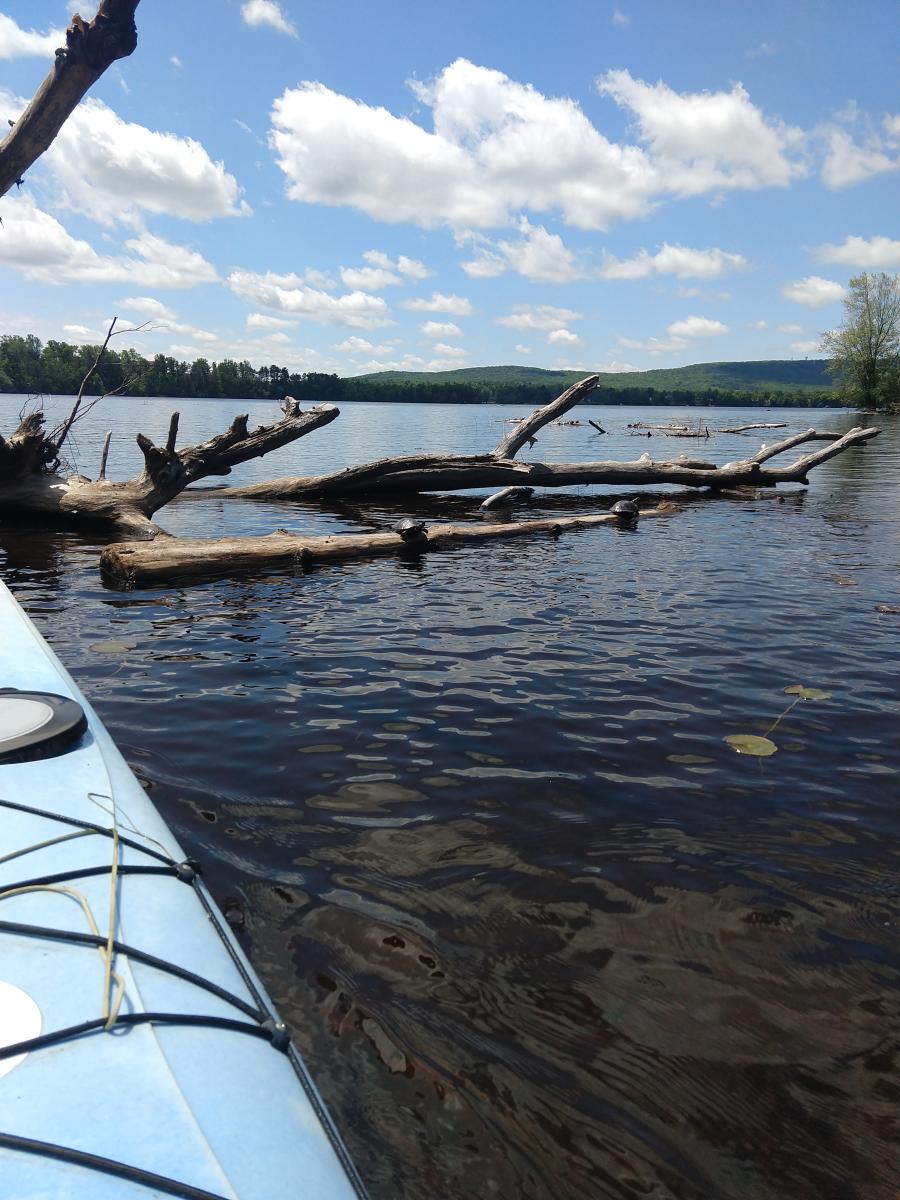 Enjoying lots of turtles sunning themselves at Memorial Park.
The next section looked amazingly different from the water than from the roads. Even though I lived in Rib Mountain for a decade now, I double checked my location to ensure I didn't miss Bluegill Bay County Park, despite being an obvious peninsula, since this was my turnaround to the south. I enjoyed paddling into the park where I took a minute to stretch my legs after being on the water for an hour. As I departed, I enjoyed watching a family of geese waddle along before crossing over to the east shore of the Wisconsin River and starting my route north. Since there was a breeze, I expected to have to work harder now, but was pleasantly surprised to see myself still moving at a good clip.
Discoveries at Memorial Park 
I took the straight line route across Lake Wausau which had more chop than along the shore so I really enjoyed the calm as I pulled into Memorial Park. I now saw several painted turtles sunning themselves and stopped (aka took a break) to watch them. I decided to paddle into the park and was glad I did as I saw a bouquet of yellow flowers at the turnaround. Then as I headed back, I saw more turtles. I approached them and noticed a giant fishing lure snagged on a log. Even though I've spent many hours fishing over the years, I had never used anything that large. I figured if I found one lure, there would be more, and sure enough I went on the collect a half dozen bobbers!
Upstream to downtown Wausau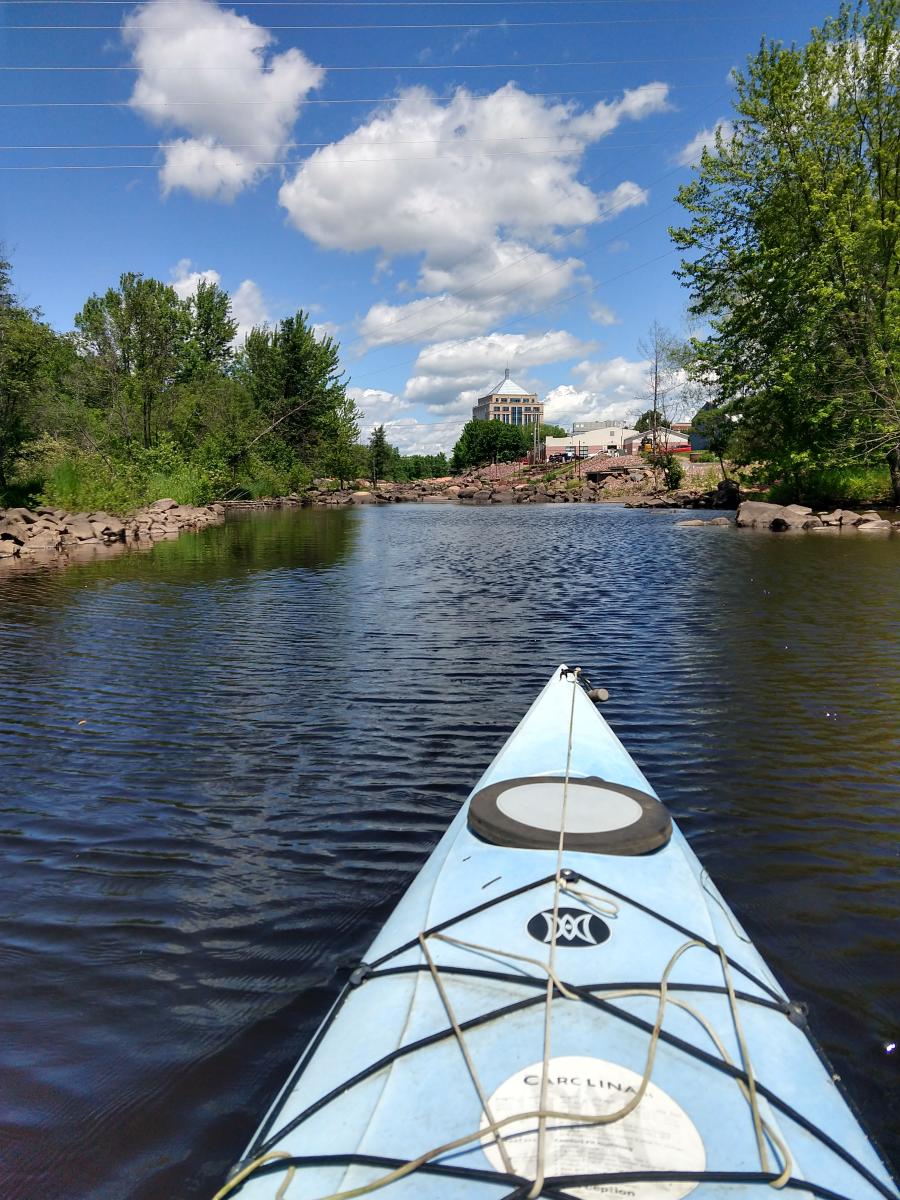 Views of the Dudley Tower - the highest building north of Milwaukee in the state, but feeling far from the city.
I continued heading upstream and enjoyed passing many islands, but the best was yet to come. As I approached Isle of the Ferns Park, I felt the need to pinch myself as I took in its beauty in downtown Wausau. Exploring the nooks and crannies left me without a doubt that "Isle of the Ferns" was the appropriate name as the ferns were almost the size of bushes.
I continued upstream until I reached Wausau Whitewater Park, which I've run by so many times. The chirping birds drowned out the roar of traffic that passed on the nearby Slough Bridge. Rather than portaging around the dam to continue north, I started my return route.
Island Exploration
Even though I immediately took a wrong turn missing Picnic Island, it was a good mishap. I found myself just feet away from a deer and fawn munching along the shoreline. After this encounter, I backtracked and floated under the footbridge to Picnic Island before passing Isle of the Ferns Park one last time. 
Homestretch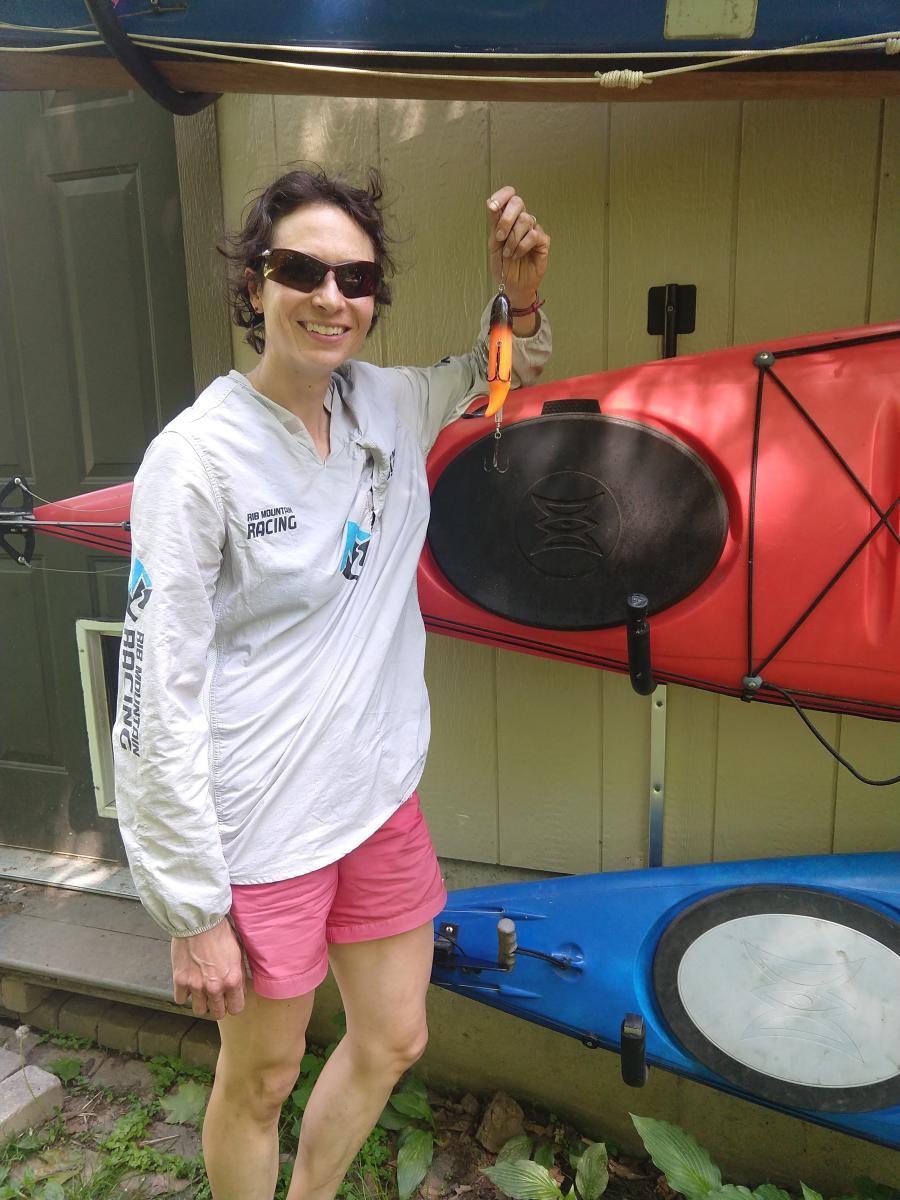 My big trophy along with the returned kayak in one piece.
I had now been in the boat for three hours in the sun and I was starting to feel it. I was looking forward to heading downstream since it was my first paddle this year (and thankful for having good arm and core stamina as a skier). Once again, it was amazing that this out-and-back section had a completely different view from the west shoreline as the islands had blocked most of the east shoreline of the Wisconsin River.
As soon as I rounded the peninsula at D.C. Everest Park I knew I'd need a final push back. I had originally planned to hug the shoreline but since I hadn't eaten anything in nearly four hours I decided to beeline back to Rookery Park. As a result, I was probably slowed down by the weeds but was definitely still paddleable, but may have not been the case later in the season. Luckily boat traffic was minimal as well.
Mission Accomplished!
I made it back to the car, but more importantly, loaded up the kayak without any issues AND returned it in one piece. Which is good, since I'd love to borrow the kayak again for another outing!